HHI Spring Bling Highlights
Click here to view gallery
Click here to view gallery 2
And check out the video below
Check out the story below running in the May issue of American Bagger Magazine. HHI's very own
Jeff La Cava is featured with his 2000 Roadking.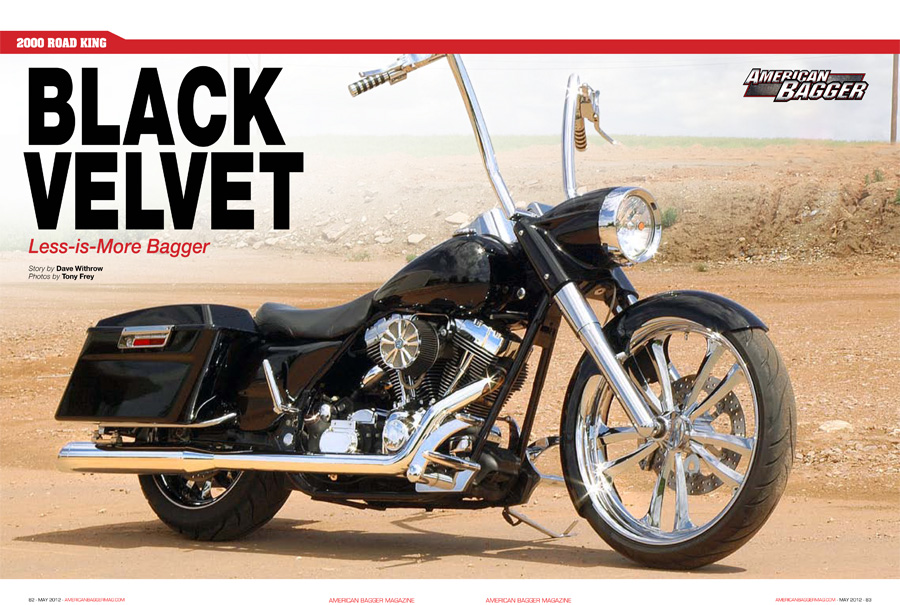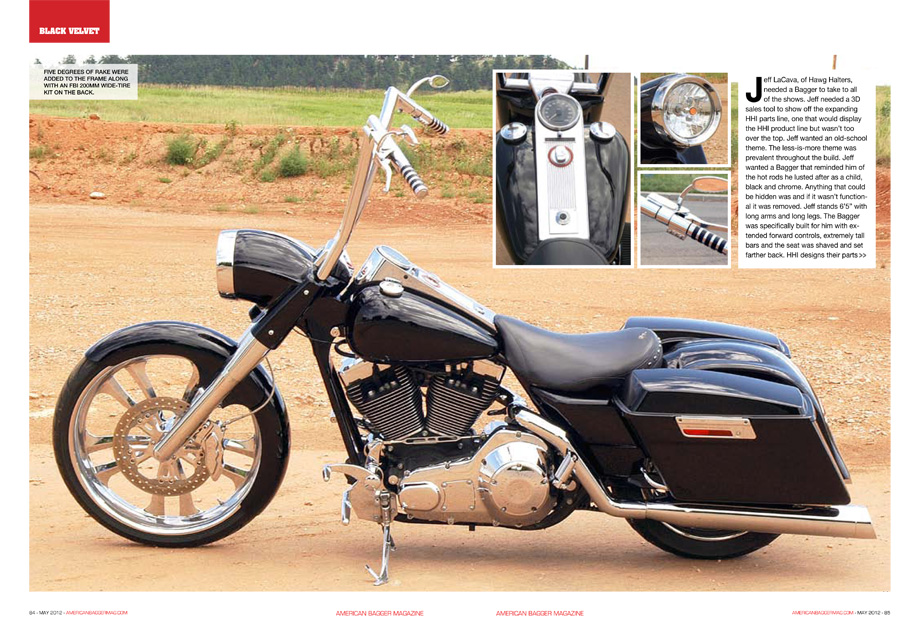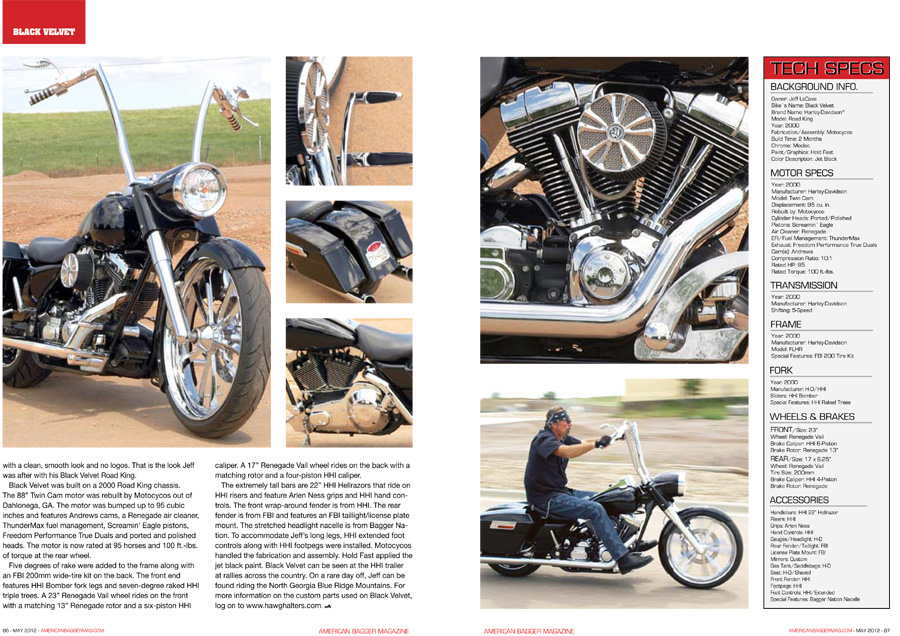 HHI Neck Kit featured in Aprils Bagger of the Month on baggertech.com your Newest Custom Bagger Forum/Community
Giveaway Chopper Kick Off
Bikernet/Cycle Source 15th Anniversary Subscription Sweeps Bike Build, Sponsored by XPress Lids You Could Win this Bike, this Year--a Complete One-Off Custom Built Chop By Bandit, with images by Prince Najar That's right. You can enter by filling out the coupon, subscribing to Bandit's Cantina on Bikernet, or to the Cycle Source Magazine. With a Crazy Horse 100-inch engine, and a frame from Texas Bike Works this build is already flying together. From issue to issue you'll see your motorcycle being built on the pages of Bikernet and Cycle Source. You'll witness Gary Maurer from Kustoms Inc. and Ron Harris from Chop Docs bend sheet metal, create one-off components, and shoot one of the sickest old-school paint schemes that you have ever seen.
Gary's shop, Kustoms Inc. in Detroit.The team will carefully select components from the best in the industry, including wheels from Ride Wright, electronics from Accel, leatherwork by the master, Howard H. Knight, and controls from Tim at Grip Ace. "Also, please look at Barnett clutches and let me know what you need," Prince Najar said. He's the manager of this process and partner at Biker Pros, who is working closely with our builders, editors, and suppliers. "Also, Blacksmith Baggerville is interested in creating one-off pegs, brake pedal, grip, internal throttle and air cleaner," the Prince said. The parts list for XPress lid chopper build, including a Fab Kevin seat pan and hinge, expands daily
.
Fab Kevin and Gary Maurer negotiating. "You got the sh%t, Kevin.
I got the briefcase," said Gary holding the Evil Engineering clutch hub hostage. Gary Maurer plans to split a set of stock fat bobs, modify them and mount them to the Texas Bike Works frame. He will take possession of the frame and Crazy Horse engine this week while the Prince searches high and low for forks cups, a springer front end, tires, rear fender, rear axle, final chain drive components, forward controls, a battery, a Mikuni carb from Rivera Primo, a primary drive system, an air cleaner, front and rear brakes, and the list goes on. Of course the Prince plans on using the D&D performance exhaust system.



"Let your wings fly for now," Gary said to the Prince in his best motivational sounding voice, modulated by Jack Daniels and soaked in wisdom by some of the best Georgia moonshine.

Ron Harris, being question by Bob Kay, Bikernet investigator, during Detroit shops tour. "Wait," Ron Harris said, "I have a special request. I need a Goldwing Windjammer fairing."



"Thanks for reminding me," Prince Najar said. "I found one, if Maurer will let go of his, then we're all set."
Gary Maurer with Jason Ferguson of Texas Bike Works initially designed the hand-built custom frame. Gary sent to Jason a custom bent backbone down to Texas. It features a 1 ĺ-inch formed DOM steel tubing arched backbone to be integrated the frame. Jason is an MMI graduate who cut his teeth in Southern California with Johnny Pag and the Biker's Dream folks in 1993. After the Dream fell apart, but with a great deal of hard knocks experience, Jason peeled out to the Lone Star state, and drove in his stakes in 2006, on the outskirts of Dallas/Fort Worth, in Granbury, Texas.
He spent five years perfecting his first frame jig and has been hand fabricating specialty frames for two years. The fabrication bug inspiration came from the first Motorcycle Mania Discovery show by Hugh King. He watched fabricators work shrinkers/stretchers, English wheels, shapers, and benders, and was suddenly intrigued to try his hand with steel manipulation.
Gary bent the curvy rigid backbone and shipped it to Jason. Jason added 2 inches of stretch up and out, plus an additional 2 inches in the rear. He included 34 degrees of rake in the neck. The rest of the 1 ľ-inch tubing design was up to Jason to enhance lines of the frame and make her flow.
"I don't have a roller to fabricate those soft bends," Jason said. But I'm sure that tool rests heavily in the back of his mind. As a kid, his dad was a biker, and Jason was inspired by Arlen Ness digger styles. He hopes to build frames, rollers, and complete bikes around Panheads, Shovels, and Sportsters. His next bike project involves a generator 1966 Shovelhead and a bone stock, never touched Arlen Ness original chassis.
Click on the XPress logo for a hot cup of Joe.
So there's talented crew for the XPress lid Bikernet/Cycle Source Sweeps biker project, and I would be proud to own any bike built with a Jason Ferguson, Texas Bike Works frame, Fab Kevin components, Crazy Horse engine, and by the crazy team of Gary and Ron. But wait, who the hell is that title sponsor? We are very fortunate to have this coffee company sponsor our build. XPress is a custom French Press coffee cup lid technology, by Smart Cup. Have you heard of French pressed coffee? Well, Smart Cup designed a portable cup that makes a French pressed cup of strong Joe whenever you want it. Over the months ahead, we'll show you how it works and delivers a superior cup of crushed beans on the go. Hang on for the next report, and don't forget to enter. --Bandit
Magazines & Builders:
Bikernet.com Bikernet.com Cycle Source Magazine cyclesource.com Kustoms Inc. KustomsInc@hotmail.com Chop Docs www.Chopdocschoppers.com
Sources:
3 Guyz www.3guyz.com Accel Accel-ignition.com/ Aeromach USA Aeromachmfg.com Barnett Clutches Barnettclutches.com Bell Helmets http://www.bellsports.com Bikerís Choice http://www. bikerschoice.com Crazy Horse CrazyHorseMotorcycles.com/ D&D Exhaust http://www.danddexhaust.com/ Evil Engineering evil-engineering.com Fab Kevin www.fabkevin.com/ Grip Ace gripace.com/Harleys.htm Handy Industries www.handyindustries.com/ Hawg Halters www.Hawghalters.com Metzeler www.us.metzelermoto.com/ Rocking K Custom Leathers howard.knight@montana.com Ride Wright Wheel www. ridewrightwheel.com Spectro Oil www. spectro-oils.com Texas Bike Works www.TexasBikeWorks.com Wire Plus http://www.wire-plus.com/ Xpress Lid by SmartCup http://mysmartcup.com/