Press Information for Immediate Release
Date Line: October 17/2022
HHI & Renegade Wheels Introduce the Dominator Performance Sprocket
Click Here To Download The PDF Version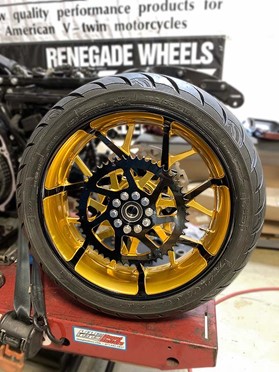 Hawg Halters and HHI/Renegade Custom Wheels proudly introduce their Dominator Custom Sprocket & Hub Kit for Hod Rod & Performance Bagger applications.
Delivered in over 40 matching designs to our Renegade Custom Wheels these 48 & 51 tooth, custom heat treated 7075 aluminum non-cush drive sprockets & hub not only look cool but offer unparalleled strength and styling in both 5 & 10 bolt configurations.
The Dominator Sprocket & hub kit is available in Machine, Black, Phantom Cut, Aztec Gold, and Chrome finishes.
This new Sprocket-Hub Kit fits all 2009 - up Touring models and is designed exclusively for HHI/Renegade Custom Wheels.
Media contact: Larry Nerada,
Director of Business Development & Corporate Affairs
E-Mail: larryn@hawghalters.com
Direct Line: 1-866-344-5059